Byetta, Januvia, Victoza Diabetes Drug Cases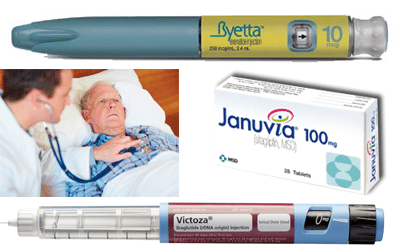 Legal-Bay LLC, The Lawsuit Settlement Funding Company, is an industry leader in providing lawsuit pre-settlement and settlement funding to families who have been severely injured by the use of Byetta, Januvia, Victoza and other diabetes medication. Legal-Bay is providing large lawsuit cash advances for Byetta, Januvia, and Victoza lawsuits involving Pancreatitis and Pancreatic Cancer.
FDA Warning of Type 2 Diabetes Drugs
In 2007, The U.S. Food and Drug Administration (FDA) began issuing alerts regarding their concerns of increased risk of acute pancreatitis in patients taking the diabetes drug Byetta.
In 2009, the FDA issued a warning on the diabetes drug, Januvia, stating that patients taking Januvia could lead to being diagnosed with Pancreatitis. The alert was issued after the FDA received 88 complaints of patients being diagnosed with pancreatitis after taking Januvia.
In 2011, the University of California thoroughly reviewed data compiled by the FDA regarding "adverse events" and the report indicated that patients that used Byetta or Januvia had 3x's the risk of pancreatic cancer.
In 2013, FDA issued another Alert on their website that they were "investigating reports of possible increased risk of pancreatitis and pre-cancerous findings of the pancreas from incretin mimetic drugs for type 2 diabetes."
Lawsuits Being Filed Against Diabetes Drug Makers
Byetta, Amylin and Ely Lilly Pharmaceuticals

Januvia, Merck & Company

Janumet, Merck & Company

Victoza, Novo Nordisk

Onglyza, Bristol Myers Squibb

Kombiglyze, Bristol Myers Squibb

Nesina, Takeda Pharmaceuticals

Kazano, Takeda Pharmaceuticals

Tradjenta, Boehringer Ingelheim

Jentadueto, Boehringer Ingelheim
Need Cash Today on Your Byetta, Januvia, or Victoza Lawsuit?

If you have already hired a diabetes drug law firm to pursue your claim against one of the manufacturers listed above, and need cash today while you wait for your settlement, Legal-Bay can help you with obtaining up to $50k in pre-settlement lawsuit funding. All you need to do is fill out the application on the upper left side of this page and a sales agent will call you promptly to discuss your lawsuit funding options. If you prefer to speak with a live agent, call our toll free number at: 877.571.0405 where live agents are always standing by to assist you
Need Help Finding a Byetta, Januvia, or Victoza Law Firm?
The following side effects have occurred from patients who have taken Type 2 Diabetes Drugs:
Pancreatitis

Pancreatic Cancer

Thyroid Cancer
If you or a loved one has been diagnosed with any of the above conditions, Legal-Bay urges you to seek legal assistance immediately, the time to file a claim against the manufacturers of Byetta, Januvia, and Victoza is winding down each day. If you need assistance obtaining a free legal consultation from a top notch Byetta Law Firm, or Victoza or Januvia lawyer feel free to fill out our application on the upper right hand side of this page; or call our toll free hotline at: 877.571.0405. Legal-Bay can connect you immediately to nationally recognized diabetes drug law firms who will not charge you any pocket fees unless they achieve a settlement award for you.