Surgical Robot Lawsuit Funding, Surgical Funding, and Lawsuit Help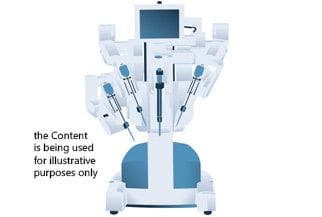 Legal-Bay Lawsuit Settlement Funding is an industry leader in assisting victims of a da Vinci robotic surgery accident. Legal-Bay is one of the only companies in the funding industry to provide lawsuit funding, surgical or corrective surgery funding, or lawsuit help if you have not retained a national da Vinci robot law firm or lawyer.
FDA Issues Recalls to da Vinci Robotic Products
In December 2013, The U.S. Food & Drug Administration issued a Class II recall to Intuitive Surgical Inc., the parent of the da Vinci surgical system. The recall of 1386 devices involves friction with the instrument arms that can cause them to stall; thus causing malfunction in the product and potential harm to the patient.
Typically an FDA Class II recall indicates that a device may cause "temporary or medically reversible" health problems, as well as a remote possibility of serious health problems.
In addition to the FDA recalls the company has issued two (2) voluntary Recalls of numerous parts to the intricate surgical robot, it is estimated that the recalls affect close to 100K components and parts.
The da Vinci machine is used in close to 400K surgeries a year and has reportedly caused many patients serious harm according to lawsuits filed, including but not limited to the following items listed below:
Lacerations to internal organs, including intestines

Burns to internal organs and blood vessels

Excessive bleeding

Nerve damage

Severe Bowel Injuries

Punctured blood vessels or ureters

Various Vaginal injuries

Death
The reported injuries have led to Intuitive Surgical Inc., being the subject of anticipated 100'S of lawsuit to be filed throughout the U.S. in both State and Federal Courts. However, it is expected that close to 1000 plaintiffs have signed up with national law firms prosecuting da Vinci claims, though many of these claims are signed up under what is called a "tolling agreement", which stays the statute of limitations to file a claim. Thus, it is impossible to fully know how many lawsuit claims Intuitive is facing at this current time. Intuitive has reported in SEC 10-K filings that they have reserved $67MM to defend and settle some product liability claims in respect to the Robotic Surgery Claims. Although there have been no global settlement discussions to date in the news media, it is anticipated that some cases – if settled- could top $500K in some cases according to legal experts that Legal-Bay has conversed with.
Get The Help You Need on Your da Vinci Lawsuit Claim
If you or a loved has already filed a da Vinci lawsuit and need a pre-settlement cash advance on your lawsuit, or corrective surgical funding to assist you in this time of need; feel free to fill out the application on the upper left hand side of this page. To speak to a live agent right now call our toll free hotline at: 877.571.0405 where agents are always standing by to answer any of your da Vinci lawsuit funding questions.
If you are uncertain if you may have a viable lawsuit claim against the da Vinci product or hospital, and need to speak with a Nationally recognized da Vinci Robot law firm; fill out the application on the upper right hand part of this page or call our toll free hotline at: 877.571.0405 where live agents can assist you with any lawsuit services that you should need.